Jurassic World: Dominion Dominates Fandom Wikis - The Loop
Play Sound
Note: Previously the translations had her name written as Xiao Ning Er.
One of the students in the fighter apprentice class with Nie Li. She is a member of the noble Winged Dragon family. One of the main motivations behind her strong determination in training is her wish to escape from an arranged marriage between her and the Sacred Family's Shen Fei, who she despises and hates.[17]
Appearance and Personality
She is described as having shoulder length black hair and a slim figure.[3] The Manhua varies from this by showing her with long brownish orange hair.[4] She is a cold and anti-social beauty. Her personality is that of a serious student, unyielding woman with a strong determination.[18]
She is very grateful to Nie Li for giving her the ability to oppose her arranged marriage with her newfound powers and for curing her of the Arctic disease before the worst happened. She was the first woman to start loving Nie Li in his rebirth life.
Plot
Alternate Life
Before Glory City's destruction she was 5 star silver rank demon spiritualist. When she had first become bronze rank she had became extremely ill and her body was wracked with pain for two years with Arctic disease. She was forced to be married into Sacred Family to Shen Fei (Shen Yue's older brother). She rebelled against her family wishes and ran away to the St. Ancestral Mountain's Black Devil Forest before the snow wind beast attack.[19]
After that, for years she suffered great pain and torment by something that resided inside the Black Devil Forest. By the time she met Nie Li her face had become ugly to look at. She recognized him, but because she wore a mask and went by the name Xiao Ning. However, Nie Li did not realize who she was due to the disfigurement. Overjoyed at finding another survivor from Glory City, she swore to herself that she would become his lover and protect him, which she did. They lived together for sometime until she died, leaving Nie Li lonely again.
[1]
Note: The author uses two different characters for "Xiao". The character for Ning'er's original surname means "similar to", whereas her alias surname means "miserable or desolate".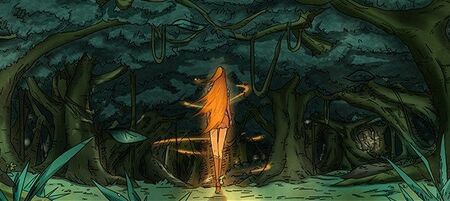 Current Life
Abilities and Equipment
Xiao Ning'er has a strong start to cultivation with a green soul realm, and a soul force of 78.[3]
When her soul realm is tested, she has the rare Winged Dragon form with Wind Lightning attribute. This form alone would make her a peerless talent. She receives the Lightning Dragon Technique.[126] She was able to almost immediately rise to 1 star bronze rank after using the technique[26].
During a moment of intense emotions her soul force jumped from 105 to 362. At the same time her soul realm underwent a transformation, taking on the physical image of wings. This is called soul forming and is extremely rare, requiring an extremely pure soul force.[29]
A month later at the Holy Orchid Institute's annual exam she displays an amazing soul force that exceeded the 500 limit of a primary soul crystal, causing it to explode.[6]
After entering the Heavenly Sacred Border Xiao Ning'er's cultivation has already broken through to Silver rank, however we do not know by how much. As she approaches the divine Thunder God's Meteorite Sword its powerful soul force also grows stronger causing her to immediately break through into 5 star silver rank. Nie Li then hands her a god level growth rate Heavenly Lightning Sparrow demon spirit and tells her to integrate with it, which she does.[38]
During the trip into the Ten Millennium Spatial Array, Nie Li came across a large amount of Blood Crystals in the Silver Winged Family's village. With the help of the crystals, Xiao Ning'er was the first to break into 1 Star Gold rank.[127]
Through her own training as well as the Demon Spirit Devouring Technique, Xiao Ning'er reaches 5 star gold rank.[78] She then quickly advances into 1 Star Black Gold rank.[79]
During the trip to the Nether Realm, everyone's cultivation quickly advanced with the assistance of the Soul Array, reaching 4 Star Black Gold rank. After entering the Nine-Layered Deathlands, Xia Ning'er ate one of the Spiritual Origin Fruit which raised her cultivation near to legend rank.[91]
While participating in the Lord of Nether's Disciple Selection, she entered the Black Infernal Tower. Xiao Ning'er was able to slowly absorbed the black flames, strengthening her body and soul.[94] When Nie Li's soul realm surged and broke through into Legend rank. The majestic wave of profound law energy flowed through the soul array, overwhelming her and causing her to jump directly to 2 star legend rank.[95]
After entering the Heavenly Note Sect, Xiao Ning'er's cultivation rapidly rose to 5 fate Heavenly Fate Realm.[107] Every stage of the Lightning Dragon cultivation technique raises a person's cultivation by three stages. When Xiao Ning'er reached the 2 Fate Realm, the stage was "Calling Thunder." However, after promoting her cultivation to the "Forming Thunder" stage she reached 5 fate.[12]
During her visit to the Divine Feathers Sect, Nie Li refined a god level Divine Scarlet Thunderbird that she immediately integrated with.[13]
Etymology
Xiao means "resemble, be like, similar" (肖).
Ning'er means "solidifying, coagulate, congeal, curd/curdle" (凝) (ning) and "child, son, youngster, youth, suffix for nouns" (儿) (er).
Alias
Xiao means "doleful, grievous, mournful, sad, sorrowful, wistful" (萧).
Ning means "solidifying, coagulate, congeal, curd/curdle" (凝).
Trivia and Quotes
She is in possession of a page from the Temporal Demon Spirit Book which was sealed inside a tattoo on her by her grandfather.
She is the first one to fall in love with Nie Li after he helped cure her illness.
She challenged Shen Fei to duel when he came to her home to try and force her to return to the Sacred family with him. She let him know she was not a bargaining piece to be used and she will marry who she wants. She then proceeded to beat the hell out of him till she almost killed him.[68]
She cherishes everything Nie Li has ever given her.
Gallery
---