A fellow student at Holy Orchid Institute in the fighter apprentice class with Nie Li.[13] He comes from the very poor commoner Du family, but his nature is very hard working and his talent is not bad.[14]
Appearance and Personality
His appearance is not described in the novel. In the manhua he is shown having brown hair and eyes.[3]
He has a very straight forward, honorable, and overly serious type of personality. He acts a bit like the responsible older brother and nags Lu Piao about his lazy nature leading to friendly arguments between them.[15] He looks up to Nie Li and respects him a great deal. Du Ze carries a great burden within his heart as his two sisters had to marry a disabled person from the next village in order for him to attend the Holy Orchard Institute.[16]
Plot
Alternate Life
One of Nie Li's closest friends, he died protecting Glory City during the demon beast attack.[13] Wei Nan, Zhu Xiangjun and Zhang Ming were all his direct subordinates during the battle.[17]
He studied the Sacred Flame cultivation technique which did not match his form or attribute.[18] Even still, through enormous hard work and perseverance, he was able to became a 1 star gold class demon spiritualist and raised his family up to the level of an aristocrat.[19]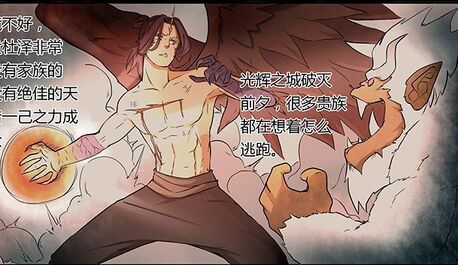 Current Life
Abilities and Equipment
Du Ze was blessed with a yellow soul realm so his starting soul force was already at 52. When his soul realm was tested he was found to have the Heavenly Thundercloud form with the lightning fire attribute His soul force was able to grow at a good rate because of how well his form and attribute match.[18]
After he acquires a regular supply of elixirs from Nie Li as well as using Purple Haze Grass, his cultivation further grew. Though his soul force does not surge as easily as others he works hard on his cultivation.[25]
After another month focused on training with Nie Li, Lu Piao, and the three others. He was already able to reach 500 in strength, reaching 5 Star bronze rank and over 500 in spiritual power.[91]
After a month he meets up with Nie Li at the City Lord's mansion and receives a Abyss Tiger god level growth rate demon spirit. At some point he had broken through to silver rank, and is able to integrate the demon spirit into his soul realm, though his actual progress into silver rank has not been revealed.[34]
During the trip into the Ten Millennium Spatial Array, Nie Li came across a large amount of Blood Crystals in the Silver Winged Family's village. With the help of the crystals, Du Ze was able to break into 1 Star Gold rank.[92]
Through his own training as well as the Demon Spirit Devouring Technique, Du Ze reaches 5 star gold rank.[62]
During the trip to the Nether Realm, everyone's cultivation quickly advanced with the assistance of the Soul Array, reaching 4 Star Black Gold rank. After entering the Nine-Layered Deathlands, Du Ze ate one of the Spiritual Origin Fruit which raised his cultivation near to legend rank.[69]
While participating in the Lord of Nether's Disciple Selection, he entered the Black Infernal Tower. Du Ze was able to slowly absorbed the black flames, strengthening his body and soul.[72] When Nie Li's soul realm surged and broke through into Legend rank. The majestic wave of profound law energy flowed through the soul array, overwhelming him and causing him to jump directly to 2 star legend rank.[7] He also aquired the Celestial Qilin as a demon spirit, greatly enhancing his natural abilities.[75]
| Abilities | Name | Note |
| --- | --- | --- |
| Soul Array | | He is one of the members in the mysterious array that connects Nie Li's soul realm and all of his friends. Using this they can share soul force and enhance each other's cultivation.[62] |
| Equipment | Notes |
| --- | --- |
| Crossbow [21] | used to hunt horned sheep |
| Fire Qilin Jade Waist Pendant [37] | A keepsake of my Du Family given to him from the Patriarch |
| Silvermoon Long Sword | Found on one of the bodies of the legend rank demon beasts, either Luqian Sha or Luqian Mo. This is a legend rank item.[93] |
Trivia and Quotes
---