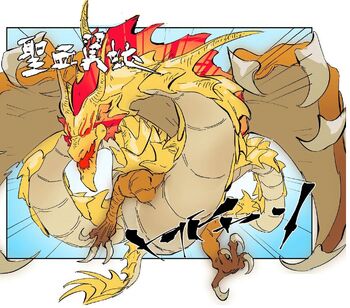 A Bloodwing Saint Jiao-dragon is a rather pure Dragon Bloodline demon beast. When it reaches adulthood it would at least be comparable to a Martial Ancestor Realm expert. They are also enormous creatures that are six to seven meters tall, capable of flight, have a powerful physical body, and can spit dragon breath.[1]
Along with Long Tianming's Dark Saint Dragon, this is considered one of the most powerful and rare types of god level growth dragon bloodline demon beasts.[2]
Nie Li is able to refine a god level growth rate mutated Demon Spirit of this demon beast in the Nightmare Demon Pot. Ordinary Bloodwing Saint Jiao-dragons have scarlet scales, but this one has black scales that turn golden when mutated.[1][3] Furthermore, it has incredibly sharp spikes all over its body and two exceptionally powerful points of energy surging within it. This became the third demon spirit that Nie Li integrates with.[1]
When merged with the Bloodwing Saint Jiao-dragon, Nie Li's size becomes much bigger, so he can't use it in all locations. However, its strength is far greater than his other demon spirits and allows him to take on enemies with higher Cultivations than him.[4]
| Abilities | Notes |
| --- | --- |
| Dragon Breath | A powerful wide area fire attack[5] |
---